News
---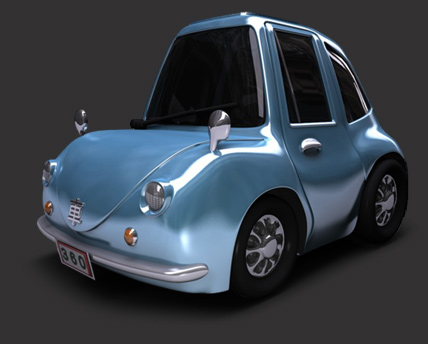 Release of Cheetah3D 7.3 - Adds Dark Mode, glTF, PBR materials, caustics…
11. Oct. 2018
We are pleased to announce the release of Cheetah3D 7.3. The most noticeable change in v7.3 is probably the support of the macOS Mojave Dark Mode. All who waited for a dark UI theme will especially like that new feature.

The next big addition is the support of PBR shaders. PBR shaders and texture collections have become the defacto standard for creating physicaly based materials. The Falcon renderer now offers a smooth integration of PBR materials into Cheetah3D.

But that's not all. Cheetah3D 7.3 furthermore adds support for the glTF file format. glTF is shaping up to become the industry standard for 3D content deliefery to games, web and VR/AR. So Cheetah3Ds capability to create glTF/glb files opens up many new workflows.

Last but not least Falcon adds support for rendering refractive caustics. So your renderings of glass objects will now look even more realistic.
Major new features in Cheetah3D 7.3:
added support for the macOS Mojave Dark Mode
added support for PBR shaders

based on Disneys Principled shader
added support for GGX BRDF

added glTF exporter

supports glTF and glb (binary glTF) output
supports the following meshe attributes

vertex
normal
two uv sets
vertex color
vertex weights

supports PBR materials

color texture
AO texture
metalness texture
roughness texture
emissive texture
embedded textures
AO/roughness/metalness texture merging

supports animation export

Takes
object animation
skeletal animations

support camera export

added support for refractive caustics to Falcon renderer
added "R", "G", "B" and "A" output channels to Image material node
improved optimize tool (NaN vertices get deleted)
added support for DirectX style normal maps
upgraded from XCode 7.3.1 to XCode 10.0
transitioned from libstdcpp to libc++

upgraded Carve CSG library to latest version
upgraded Bullet physics engine (v2.79 -> v2.87)
upgraded OpenEXR library (v2.0 -> v2.2.1)
updated FBX SDK library (libstdcpp -> libc++)
removed dependency to BOOST library

removed all OpenCL code
repaced lots of OpenGL code (in preparation for Metal)
changed specular color of default material to black
improved node editor (copies all possible parameter values to new shader)
fixed bug in node editor (fixed node position when changing shader node)
fixed redraw bug in node editor
fixed .h export problem
fixed bug in material preview of state node
fixed crashing bug in material import (failed to properly connect nodes)
fixed bug in photon mapping
fixed object selection bug
fixed bug in node editor (displayed broken connections)
fixed bug in "Add node" menu
fixed material delete bug
fixed bug in glass shader (invisible area lights)
fixed bug in .jas importer (problem with v6.x skylights)
fixed bug in .jas importer (converting v6.x point lights with radius to sphereical areas lights could fail)
fixed bug in shadow mat (blocked glossy reflections)
fixed bug when copy&pasting objects (take manager didn't update)
fixed bug in glass shader (appearing in Falcon with very low roughness values)
fixed bug in particle mesh (particle alignment problem)
fixed bug in SVG import
fixed bug in gadget tool (problem with algning too (0,0,0))
fixed crashing bug in scalpel tool
Screenshots: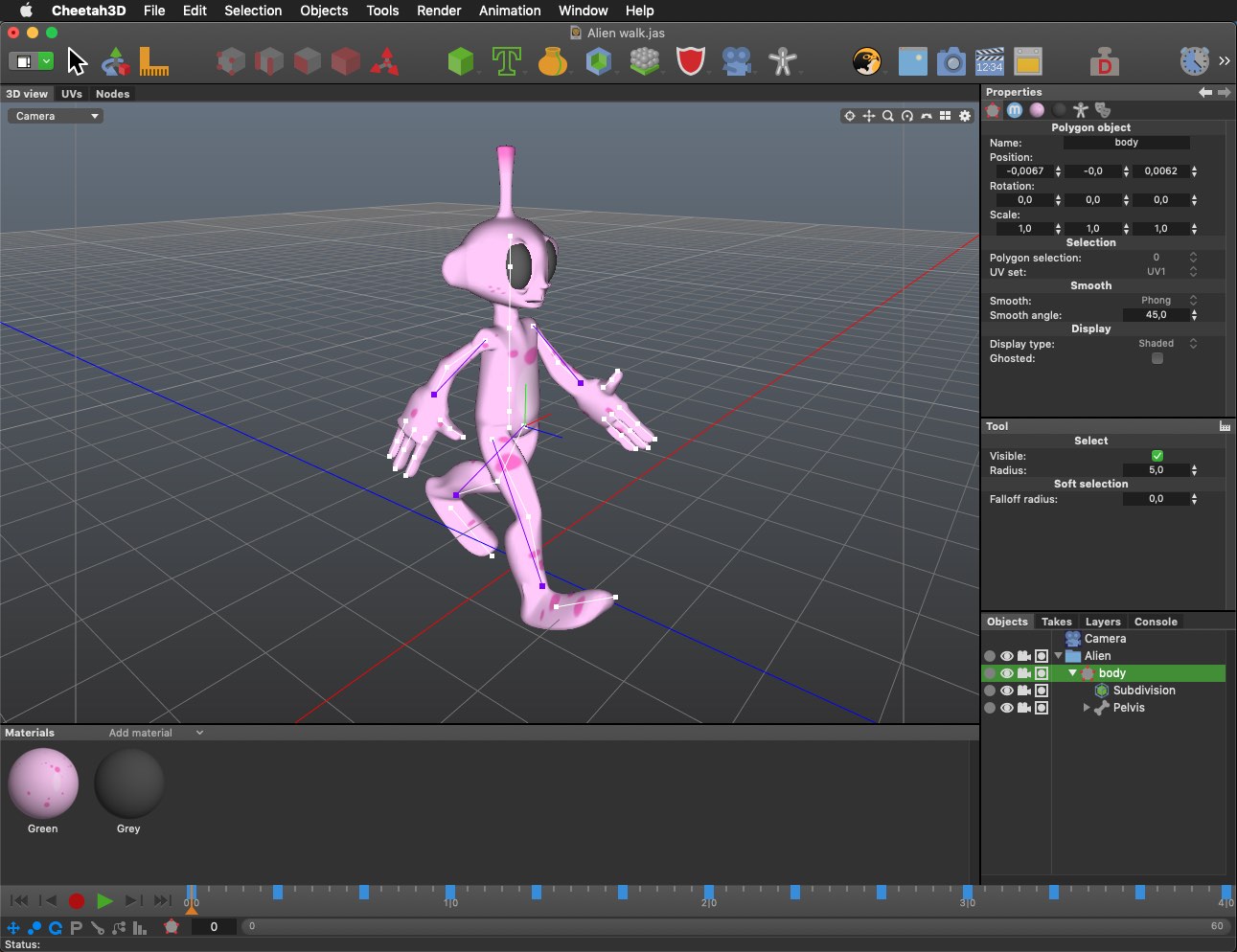 ---
News list
11. Oct. 2018Release of Cheetah3D 7.3 - Adds Dark Mode, glTF, PBR materials, caustics…
22. Feb. 2018Release of Cheetah3D 7.2 - Adds HEVC, ProRes, IES Lights,…
7. Dec. 2017Release of Cheetah3D 7.1 - Adds polygon reduction, loft,…
4. Oct. 2017Release of Cheetah3D 7.0 - Biggest Upgrade ever
1. May. 2016Cheetah3D 7.0 - Early Adopters Beta Test
28. Sept. 2014Release of Cheetah3D 6.3.2
30. Jan. 2014Release of Cheetah3D 6.3.1
30. Dec. 2013Release of Cheetah3D 6.3
8. Apr. 2013Release of Cheetah3D 6.2.1
30. Jan. 2013Release of Cheetah3D 6.2 - Adds support for ABF unwrapping
18. Oct. 2012Release of Cheetah3D 6.1 - Adds support for Retina Display!!!
26. July. 2012Release of Cheetah3D 6.0.1
13. Apr. 2012Release of Cheetah3D 6.0 - Adds Bullet Physics
30. Aug. 2011Release of Cheetah3D 5.8
24. May. 2011Release of Cheetah3D 5.7
16. Nov. 2010Release of Cheetah3D 5.6
16. Jun. 2010Release of Cheetah3D 5.5 - Adds particle system
23. Feb. 2010Release of Cheetah3D 5.3 - 64-bit version
20. Jan. 2010Release of Cheetah3D 5.2
1. Dec. 2009Release of Cheetah3D 5.1
8. Oct. 2009Release of Cheetah3D 5.0
2. Sep. 2009Release of Cheetah3D 4.7 (Snow Leopard compatible!!!)
9. May. 2009Release of Cheetah3D 4.6.4
30. Dec. 2008Release of Cheetah3D 4.6.3
01. Dec. 20085th-Anniversary special offer
04. Nov. 20084th Cheetah3D-Contest
16. Sep. 2008Release of Cheetah3D 4.6.2
15. Jul. 2008Release of Cheetah3D 4.6.1
14. May. 2008Release of Cheetah3D 4.6 and "Cheetah3D for Beginners" video tutorials
13. Mar. 2008Release of Cheetah3D 4.5.1
12. Mar. 2008Release of Cheetah3D 4.5
24. Jan. 2008Buy Cheetah3D 4.x and get free update to Cheetah3D 5.0
9. Jan. 2008Release of Cheetah3D 4.4
26. Nov. 2007Release of Cheetah3D 4.3.1
26. Oct. 2007Release of Cheetah3D 4.3
19. Jun. 2007Release of Cheetah3D 4.2
18. Apr. 2007Release of Cheetah3D 4.1
23. Mar. 2007Release of Cheetah3D 4.0
03. Jan. 2007Release of Cheetah3D 3.6
05. Dec. 2006Buy Cheetah3D 3.x and get free update to Cheetah3D 4.0
06. Nov. 2006Cheetah3D wins "Commended" award at MacUser Awards 2006
26. Oct. 2006Release of Cheetah3D 3.5
26. Jul. 2006Release of Cheetah3D 3.4
14. Jun. 2006Release of Cheetah3D 3.3
09. May. 2006Release of Cheetah3D 3.2
01. Apr. 20062nd Cheetah3D-Contest
14. Mar. 2006Release of Cheetah3D 3.1
22. Feb. 2006Release of Cheetah3D 3.0
22. Feb. 2006New Cheetah3D logo and web site
22. Jan. 2006Release of Cheetah3D 2.6.1