News
---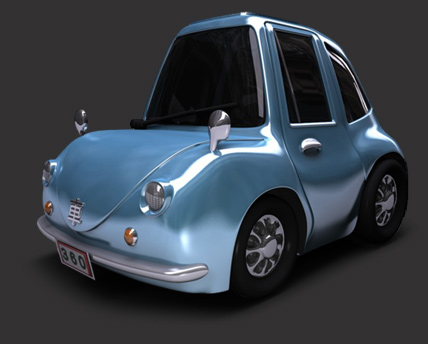 Release of Cheetah3D 5.8
30. Aug. 2011
Today sees the release of Cheetah 5.8. The biggest change in v5.8 is the improved compatibility with Mac OS X Lion (10.7). It fixes many small bugs and problems and adjusts the color gradients to fit in better with the Lion window color scheme. The Collada export has been improved so that, under Lion, Preview.app can load Cheetah3D-generated Collada files properly. For non-Lion users, v5.8 also offers some welcome improvements like better Auto-keying, faster F-Curve drawing and better Undo support when dealing with poses.
New features in Cheetah3D 5.8:
improved compatibility with Mac OS X 10.7 Lion
adjusted layout gradients (Lion)
improved Collada export for Preview.app compatibility (Lion)
removed toolbar separators (Lion)
added new hotkeys

record position
record scale
record rotation

improved 3DS UV import/export
removed support for caps lock modifier key as hotkey
added undo to the following commands:

new pose
delete pose
update pose

color preferences can be set back to their default settings (see context menu)
pose manager now remembers its selection
reduced application bundle file size (down from 116 MByte to 80 MByte)
disabled UI animation of preferences window
fixed crashing bug when closing unsaved scenes (Lion)
fixed tabs redraw bug (Lion)
fixed auto-keying bug
fixed UV edge tweaking bug
fixed UV scaling bug
fixed link handling bug
fixed file loader undo bug
fixed problem when loading FBX files whose objects have no names
fixed registration problem (Lion)
fixed drawing bug in F-curve editor
fixed texture loading bug
fixed display bug of objects with modifiers
fixed bug whereby hidden objects don't export
fixed bug in .stl exporter caused by empty scenes
fixed object center snapping bug
fixed bug in extrude tool
---
News list
22. Feb. 2018Release of Cheetah3D 7.2 - Adds HEVC, ProRes, IES Lights,…
7. Dec. 2017Release of Cheetah3D 7.1 - Adds polygon reduction, loft,…
4. Oct. 2017Release of Cheetah3D 7.0 - Biggest Upgrade ever
1. May. 2016Cheetah3D 7.0 - Early Adopters Beta Test
28. Sept. 2014Release of Cheetah3D 6.3.2
30. Jan. 2014Release of Cheetah3D 6.3.1
30. Dec. 2013Release of Cheetah3D 6.3
8. Apr. 2013Release of Cheetah3D 6.2.1
30. Jan. 2013Release of Cheetah3D 6.2 - Adds support for ABF unwrapping
18. Oct. 2012Release of Cheetah3D 6.1 - Adds support for Retina Display!!!
26. July. 2012Release of Cheetah3D 6.0.1
13. Apr. 2012Release of Cheetah3D 6.0 - Adds Bullet Physics
30. Aug. 2011Release of Cheetah3D 5.8
24. May. 2011Release of Cheetah3D 5.7
16. Nov. 2010Release of Cheetah3D 5.6
16. Jun. 2010Release of Cheetah3D 5.5 - Adds particle system
23. Feb. 2010Release of Cheetah3D 5.3 - 64-bit version
20. Jan. 2010Release of Cheetah3D 5.2
1. Dec. 2009Release of Cheetah3D 5.1
8. Oct. 2009Release of Cheetah3D 5.0
2. Sep. 2009Release of Cheetah3D 4.7 (Snow Leopard compatible!!!)
9. May. 2009Release of Cheetah3D 4.6.4
30. Dec. 2008Release of Cheetah3D 4.6.3
01. Dec. 20085th-Anniversary special offer
04. Nov. 20084th Cheetah3D-Contest
16. Sep. 2008Release of Cheetah3D 4.6.2
15. Jul. 2008Release of Cheetah3D 4.6.1
14. May. 2008Release of Cheetah3D 4.6 and "Cheetah3D for Beginners" video tutorials
13. Mar. 2008Release of Cheetah3D 4.5.1
12. Mar. 2008Release of Cheetah3D 4.5
24. Jan. 2008Buy Cheetah3D 4.x and get free update to Cheetah3D 5.0
9. Jan. 2008Release of Cheetah3D 4.4
26. Nov. 2007Release of Cheetah3D 4.3.1
26. Oct. 2007Release of Cheetah3D 4.3
19. Jun. 2007Release of Cheetah3D 4.2
18. Apr. 2007Release of Cheetah3D 4.1
23. Mar. 2007Release of Cheetah3D 4.0
03. Jan. 2007Release of Cheetah3D 3.6
05. Dec. 2006Buy Cheetah3D 3.x and get free update to Cheetah3D 4.0
06. Nov. 2006Cheetah3D wins "Commended" award at MacUser Awards 2006
26. Oct. 2006Release of Cheetah3D 3.5
26. Jul. 2006Release of Cheetah3D 3.4
14. Jun. 2006Release of Cheetah3D 3.3
09. May. 2006Release of Cheetah3D 3.2
01. Apr. 20062nd Cheetah3D-Contest
14. Mar. 2006Release of Cheetah3D 3.1
22. Feb. 2006Release of Cheetah3D 3.0
22. Feb. 2006New Cheetah3D logo and web site
22. Jan. 2006Release of Cheetah3D 2.6.1