News
---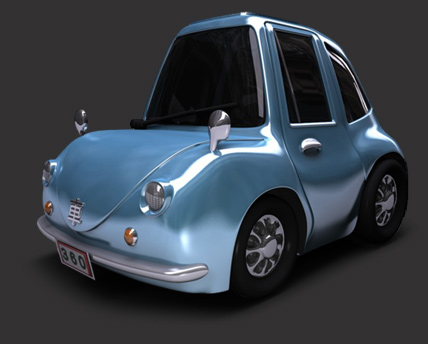 Release of Cheetah3D 7.1 - Adds polygon reduction, loft,…
7. Dec. 2017
We are pleased to announce the the first feature update to Cheetah3D 7. After a smooth rollout of Cheetah3D 7.0 two months ago many powerful new features like polygon reduction, a loft modelling object and a vastly improved text spline object been added. Users with limited amounts of RAM will be happy to hear that the renderer is using considerably less memory with Cheetah3D 7.1 which allows even more complex and realistic scenes.
Major new features in Cheetah3D 7.1:
Added mesh simplification tool (using fast quadric mesh simplification)
Added normal compression to Cheetah/Falcon (geometry uses approx. 20% less RAM)
Added Loft creator object
Added uv coords to covers of lathe, polyplane and sweep objects
Added scroll wheel support to movie player in renderer manager
Improved Text spline object

Added multi-line support
Added font size property
Added text alignment property
Added character and line spacing property
Added animation property

Improved SVG import

Improved import of densely packed path tags
arcs are no longer tesselated but converted to splines

Improved spline tesselation algorithm

More evenly spaced
3x faster

Improved transform gadget (handles are easier to pick)
Imporved numerical precision of polyhedra object
Imporved numerical precision of ruler tool
Improved performance of material preview rendering
Improved FBX exported/imported (joint type gets handled properly)
Timeline is always displayed after launch
Render tags inherit their settings to child objects
Render tags can be attached to folder objects
Fixed bug in STL, OBJ, 3DS, etc. exporters (subtract with boolean modifier caused problems)
Fixed bug when entering negative values in properties editor (under Swedish language)
Fixed bug in transform tool (IK failed under certain contitions)
Fixed transparency bug in Cheetah
Fixed transparent shadow bug in solid shader
Fixed menu update bug when working with multiple scenes
Fixed document save bug when renderer was changed
Fixed memory leak
Updated some sample scenes
Screenshots:

---
News list
11. Oct. 2018Release of Cheetah3D 7.3 - Adds Dark Mode, glTF, PBR materials, caustics…
22. Feb. 2018Release of Cheetah3D 7.2 - Adds HEVC, ProRes, IES Lights,…
7. Dec. 2017Release of Cheetah3D 7.1 - Adds polygon reduction, loft,…
4. Oct. 2017Release of Cheetah3D 7.0 - Biggest Upgrade ever
1. May. 2016Cheetah3D 7.0 - Early Adopters Beta Test
28. Sept. 2014Release of Cheetah3D 6.3.2
30. Jan. 2014Release of Cheetah3D 6.3.1
30. Dec. 2013Release of Cheetah3D 6.3
8. Apr. 2013Release of Cheetah3D 6.2.1
30. Jan. 2013Release of Cheetah3D 6.2 - Adds support for ABF unwrapping
18. Oct. 2012Release of Cheetah3D 6.1 - Adds support for Retina Display!!!
26. July. 2012Release of Cheetah3D 6.0.1
13. Apr. 2012Release of Cheetah3D 6.0 - Adds Bullet Physics
30. Aug. 2011Release of Cheetah3D 5.8
24. May. 2011Release of Cheetah3D 5.7
16. Nov. 2010Release of Cheetah3D 5.6
16. Jun. 2010Release of Cheetah3D 5.5 - Adds particle system
23. Feb. 2010Release of Cheetah3D 5.3 - 64-bit version
20. Jan. 2010Release of Cheetah3D 5.2
1. Dec. 2009Release of Cheetah3D 5.1
8. Oct. 2009Release of Cheetah3D 5.0
2. Sep. 2009Release of Cheetah3D 4.7 (Snow Leopard compatible!!!)
9. May. 2009Release of Cheetah3D 4.6.4
30. Dec. 2008Release of Cheetah3D 4.6.3
01. Dec. 20085th-Anniversary special offer
04. Nov. 20084th Cheetah3D-Contest
16. Sep. 2008Release of Cheetah3D 4.6.2
15. Jul. 2008Release of Cheetah3D 4.6.1
14. May. 2008Release of Cheetah3D 4.6 and "Cheetah3D for Beginners" video tutorials
13. Mar. 2008Release of Cheetah3D 4.5.1
12. Mar. 2008Release of Cheetah3D 4.5
24. Jan. 2008Buy Cheetah3D 4.x and get free update to Cheetah3D 5.0
9. Jan. 2008Release of Cheetah3D 4.4
26. Nov. 2007Release of Cheetah3D 4.3.1
26. Oct. 2007Release of Cheetah3D 4.3
19. Jun. 2007Release of Cheetah3D 4.2
18. Apr. 2007Release of Cheetah3D 4.1
23. Mar. 2007Release of Cheetah3D 4.0
03. Jan. 2007Release of Cheetah3D 3.6
05. Dec. 2006Buy Cheetah3D 3.x and get free update to Cheetah3D 4.0
06. Nov. 2006Cheetah3D wins "Commended" award at MacUser Awards 2006
26. Oct. 2006Release of Cheetah3D 3.5
26. Jul. 2006Release of Cheetah3D 3.4
14. Jun. 2006Release of Cheetah3D 3.3
09. May. 2006Release of Cheetah3D 3.2
01. Apr. 20062nd Cheetah3D-Contest
14. Mar. 2006Release of Cheetah3D 3.1
22. Feb. 2006Release of Cheetah3D 3.0
22. Feb. 2006New Cheetah3D logo and web site
22. Jan. 2006Release of Cheetah3D 2.6.1