News
---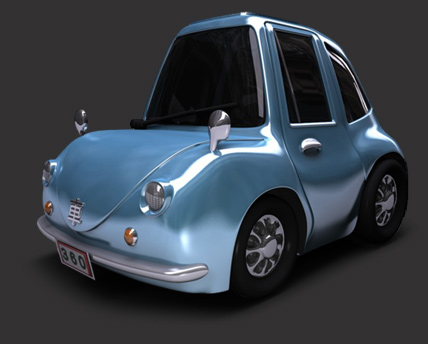 Release of Cheetah3D 4.0
23. Mar. 2007
Cheetah3D 4.0 has been released today. The fourth major release of Cheetah3D finally offers the highly anticipated character animation tools. With Cheetah3D 4.0 you can now easily animate characters for creating your own 3D short films.
Cheetah3D 4.0 costs 129 US$ for a single user license and 59 US$ for an update.
But for a short period you can buy Cheetah3D with the introductionary price of 109 US$ for the single user license and 49 US$ for the Update. This special offer ends 1st. April. 2007.
And last but not least www.cheetah3D.com has a brand new design done by
David Ellis
and
Alessandro Fontana
.
New features in Cheetah3D 4.0:
Character animation tools

Joint based skeleton system
Forward kinematic (FK)
Inverse kinematics (IK)
IK constraints
Joint tool
Vertex weight painting
Take manager to record independent animation clips
Poser manager to record often used poses for later usage
Morph targets for facial animation and muscle animation
FBX animation export/import

UI enhancements

completely new designed icons (by Frank Beckmann)
group different views to a tab view
multi object selection support in object browser
tag copy & paste
group & ungroup objects

Modeling tools

new transform gadget
new ruler tool
accelerated SDS modeling on multi CPU Macs

Renderer

Support for Macs with up to 8 CPUs

dozens of other small features and enhancements
---
News list
22. Feb. 2018Release of Cheetah3D 7.2 - Adds HEVC, ProRes, IES Lights,…
7. Dec. 2017Release of Cheetah3D 7.1 - Adds polygon reduction, loft,…
4. Oct. 2017Release of Cheetah3D 7.0 - Biggest Upgrade ever
1. May. 2016Cheetah3D 7.0 - Early Adopters Beta Test
28. Sept. 2014Release of Cheetah3D 6.3.2
30. Jan. 2014Release of Cheetah3D 6.3.1
30. Dec. 2013Release of Cheetah3D 6.3
8. Apr. 2013Release of Cheetah3D 6.2.1
30. Jan. 2013Release of Cheetah3D 6.2 - Adds support for ABF unwrapping
18. Oct. 2012Release of Cheetah3D 6.1 - Adds support for Retina Display!!!
26. July. 2012Release of Cheetah3D 6.0.1
13. Apr. 2012Release of Cheetah3D 6.0 - Adds Bullet Physics
30. Aug. 2011Release of Cheetah3D 5.8
24. May. 2011Release of Cheetah3D 5.7
16. Nov. 2010Release of Cheetah3D 5.6
16. Jun. 2010Release of Cheetah3D 5.5 - Adds particle system
23. Feb. 2010Release of Cheetah3D 5.3 - 64-bit version
20. Jan. 2010Release of Cheetah3D 5.2
1. Dec. 2009Release of Cheetah3D 5.1
8. Oct. 2009Release of Cheetah3D 5.0
2. Sep. 2009Release of Cheetah3D 4.7 (Snow Leopard compatible!!!)
9. May. 2009Release of Cheetah3D 4.6.4
30. Dec. 2008Release of Cheetah3D 4.6.3
01. Dec. 20085th-Anniversary special offer
04. Nov. 20084th Cheetah3D-Contest
16. Sep. 2008Release of Cheetah3D 4.6.2
15. Jul. 2008Release of Cheetah3D 4.6.1
14. May. 2008Release of Cheetah3D 4.6 and "Cheetah3D for Beginners" video tutorials
13. Mar. 2008Release of Cheetah3D 4.5.1
12. Mar. 2008Release of Cheetah3D 4.5
24. Jan. 2008Buy Cheetah3D 4.x and get free update to Cheetah3D 5.0
9. Jan. 2008Release of Cheetah3D 4.4
26. Nov. 2007Release of Cheetah3D 4.3.1
26. Oct. 2007Release of Cheetah3D 4.3
19. Jun. 2007Release of Cheetah3D 4.2
18. Apr. 2007Release of Cheetah3D 4.1
23. Mar. 2007Release of Cheetah3D 4.0
03. Jan. 2007Release of Cheetah3D 3.6
05. Dec. 2006Buy Cheetah3D 3.x and get free update to Cheetah3D 4.0
06. Nov. 2006Cheetah3D wins "Commended" award at MacUser Awards 2006
26. Oct. 2006Release of Cheetah3D 3.5
26. Jul. 2006Release of Cheetah3D 3.4
14. Jun. 2006Release of Cheetah3D 3.3
09. May. 2006Release of Cheetah3D 3.2
01. Apr. 20062nd Cheetah3D-Contest
14. Mar. 2006Release of Cheetah3D 3.1
22. Feb. 2006Release of Cheetah3D 3.0
22. Feb. 2006New Cheetah3D logo and web site
22. Jan. 2006Release of Cheetah3D 2.6.1