News
---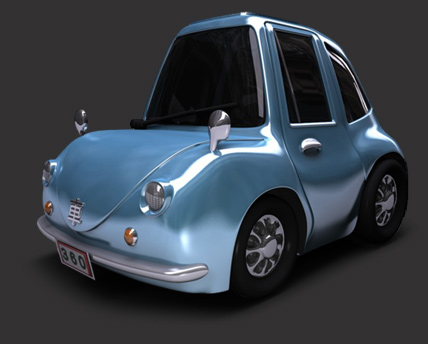 Release of Cheetah3D 5.0
8. Oct. 2009
Cheetah3D 5.0 was released today. Version 5.0 adds a completely new node based material system which allows professional designers to create stunning new materials just by drag and drop. Additionally, the render engine was optimized to efficiently handle up to 16 CPU cores. The modeling tools have been extended by a new bevel tool and a bend modifier, and basic export to the Collada file format has been added. Cheetah3D 5.0 now also supports pivot points. Last but not least, Cheetah3D offers many small UI enhancements which accelerate daily work. Cheetah3D 5.0 is priced at $149.00 (USD) for a single-user license. Customers may upgrade from Cheetah3D 1.x - 4.x for $69.00.
New features in Cheetah3D 5.0:
Rendering

New node based material system
Support for up to 16 threads
New irradiance cache
Material defs can be saved (with embedded textures)
Many new 2D, 3D or 4D procedural textures (and more to come)
New shaders (toon, shadow, optimized dielectric and metal etc.)
Blurred refraction
Renderer stops much faster

Modeling

Bend modifier
Bevel tool
Better edge delete
Support for pivot points
Other small enhancemnets

UI

New node editor
Tag selector
Automatic texture reload
Script menu update menu item
Object history in properties editor
Material name editing in material browser
Jump to linked objects if you double click a link property
text field un-selection when moving mouse over 3D or UV editor

File IO

Collada export (only static scenes)
FBX loader supports pivot point
improved .sia loader/exporter

New German localization
Many small enhancements, optimizations and bug fixes
---
News list
11. Oct. 2018Release of Cheetah3D 7.3 - Adds Dark Mode, glTF, PBR materials, caustics…
22. Feb. 2018Release of Cheetah3D 7.2 - Adds HEVC, ProRes, IES Lights,…
7. Dec. 2017Release of Cheetah3D 7.1 - Adds polygon reduction, loft,…
4. Oct. 2017Release of Cheetah3D 7.0 - Biggest Upgrade ever
1. May. 2016Cheetah3D 7.0 - Early Adopters Beta Test
28. Sept. 2014Release of Cheetah3D 6.3.2
30. Jan. 2014Release of Cheetah3D 6.3.1
30. Dec. 2013Release of Cheetah3D 6.3
8. Apr. 2013Release of Cheetah3D 6.2.1
30. Jan. 2013Release of Cheetah3D 6.2 - Adds support for ABF unwrapping
18. Oct. 2012Release of Cheetah3D 6.1 - Adds support for Retina Display!!!
26. July. 2012Release of Cheetah3D 6.0.1
13. Apr. 2012Release of Cheetah3D 6.0 - Adds Bullet Physics
30. Aug. 2011Release of Cheetah3D 5.8
24. May. 2011Release of Cheetah3D 5.7
16. Nov. 2010Release of Cheetah3D 5.6
16. Jun. 2010Release of Cheetah3D 5.5 - Adds particle system
23. Feb. 2010Release of Cheetah3D 5.3 - 64-bit version
20. Jan. 2010Release of Cheetah3D 5.2
1. Dec. 2009Release of Cheetah3D 5.1
8. Oct. 2009Release of Cheetah3D 5.0
2. Sep. 2009Release of Cheetah3D 4.7 (Snow Leopard compatible!!!)
9. May. 2009Release of Cheetah3D 4.6.4
30. Dec. 2008Release of Cheetah3D 4.6.3
01. Dec. 20085th-Anniversary special offer
04. Nov. 20084th Cheetah3D-Contest
16. Sep. 2008Release of Cheetah3D 4.6.2
15. Jul. 2008Release of Cheetah3D 4.6.1
14. May. 2008Release of Cheetah3D 4.6 and "Cheetah3D for Beginners" video tutorials
13. Mar. 2008Release of Cheetah3D 4.5.1
12. Mar. 2008Release of Cheetah3D 4.5
24. Jan. 2008Buy Cheetah3D 4.x and get free update to Cheetah3D 5.0
9. Jan. 2008Release of Cheetah3D 4.4
26. Nov. 2007Release of Cheetah3D 4.3.1
26. Oct. 2007Release of Cheetah3D 4.3
19. Jun. 2007Release of Cheetah3D 4.2
18. Apr. 2007Release of Cheetah3D 4.1
23. Mar. 2007Release of Cheetah3D 4.0
03. Jan. 2007Release of Cheetah3D 3.6
05. Dec. 2006Buy Cheetah3D 3.x and get free update to Cheetah3D 4.0
06. Nov. 2006Cheetah3D wins "Commended" award at MacUser Awards 2006
26. Oct. 2006Release of Cheetah3D 3.5
26. Jul. 2006Release of Cheetah3D 3.4
14. Jun. 2006Release of Cheetah3D 3.3
09. May. 2006Release of Cheetah3D 3.2
01. Apr. 20062nd Cheetah3D-Contest
14. Mar. 2006Release of Cheetah3D 3.1
22. Feb. 2006Release of Cheetah3D 3.0
22. Feb. 2006New Cheetah3D logo and web site
22. Jan. 2006Release of Cheetah3D 2.6.1