News
---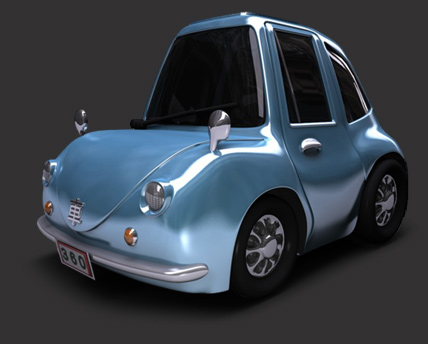 Release of Cheetah3D 5.7
24. May. 2011
Today saw the release of Cheetah 5.7. The biggest change in this latest version is undoubtedly the completely rewritten preferences window. The new preferences window now supports a Cocoa toolbar, binding of almost 200 commands and custom Javascripts to hotkeys, customizing many of the user interface colors, and much more. Version 5.7 also extends Cheetah 3D's Collada support, by introducing the export of animations and skinned characters. Many small improvements, bug fixes and optimizations like the SSE optimized subdivision surfaces round off the new features. Cheetah3D 5.7 is a free update for all registered Cheetah3D 5.x users.
Last month we were proud the celebrate the 10th anniversary of Cheetah3D. The 10th anniversary special offer of 99$ for Cheetah3D (regularly price 149$) will end on May, 31th 2011. The free Upgrade to Cheetah3D 6.0 is, of course, also included in the 10th anniversary special offer.
Last but not least, since Jan. 6th 2011, Cheetah3D has been available to purchase via the Mac App Store.
New features in Cheetah3D 5.7:
Completely new Preferences window

Preferences window has toolbar
All menu commands can now be bound to hotkeys
Scripts can be bound to hotkeys
Many colors are customizable
Preferences window is now also accessible when no document is open
Many new preferences

Extended Collada exporter

Added animation export
Added skinning export
Added second UV set export

Added support for PFhoe Pro via. FBX files
Default mouse mode now supports

ALT + CRTL + left mouse drag for camera move
ALT + COMMAND + left mouse drag for camera zoom

Extended Target tag

Added offset parameter
Added Up-Vector parameter
Target tag now aims on pivot point

SSE optimized subdivision surfaces (25% faster)
Scripts can now only be installed in the "~/Library/Application Support/Cheetah3D/scripts" folder
Moved render history to "~/Library/Application Support/Cheetah3D/Render History"
Camera guidelines are now always visible
Rotation angle is displayed in status bar
Added "Rotation step size" property to transform tool
Line antialiasing is now a global preferences
Increased UV transform gadget selection sensitivity
Improved drag&drop in object browser
Ruler tool also support parametric objects
Saves absolute texture paths to FBX files
Changed default near clipping plane to 0.01
Added work around for Bamboo problems
Unified Play and Stop animation menu commands
Improved 3DS loader
Fixed bug in obj loader (negative indices)
Fixed numerical problem with Euler rotations
Fixed disappearing particles bug in renderer
Fixed background gradient drawing bug
Fixed non-stoppable animation bug
Fixed bug in transform tool (free rotate failed)
Fixed normal export bug in .obj exporter
Fixed .hdr loader bug for big textures
Fixed bump mapping bug
Fixed texture painting bug
Fixed bug in HSV2RGB node
Fixed polygon selection bug
Fixed bug in .obj exporter
Fixed IK bug which caused scaling of joints
Fixed bug in extrude tool
Fixed snapping bug to hidden polygons
Fixed snapping bug to invisible objects
Fixed normal breaks crashing bug
Fixed bug in shell tool
Fixed bug in pose tag (table view)
Fixed bug in morph tag
Fixed bug in skeleton tag
Fixed bug in take manager
Fixed bug of MAS version on case-sensitive file systems
Fixed auto-highlighting bug after selecting a tool form the menu
Fixed material adding undo bug
Fixed material copy&paste undo bug
Fixed bug when baking IK and other constraints
Fixed polygon selection bug
Fixed link bug in polygon scripts
Fixed import children hotkey bug
Fixed UV-view editing bug
---
News list
22. Feb. 2018Release of Cheetah3D 7.2 - Adds HEVC, ProRes, IES Lights,…
7. Dec. 2017Release of Cheetah3D 7.1 - Adds polygon reduction, loft,…
4. Oct. 2017Release of Cheetah3D 7.0 - Biggest Upgrade ever
1. May. 2016Cheetah3D 7.0 - Early Adopters Beta Test
28. Sept. 2014Release of Cheetah3D 6.3.2
30. Jan. 2014Release of Cheetah3D 6.3.1
30. Dec. 2013Release of Cheetah3D 6.3
8. Apr. 2013Release of Cheetah3D 6.2.1
30. Jan. 2013Release of Cheetah3D 6.2 - Adds support for ABF unwrapping
18. Oct. 2012Release of Cheetah3D 6.1 - Adds support for Retina Display!!!
26. July. 2012Release of Cheetah3D 6.0.1
13. Apr. 2012Release of Cheetah3D 6.0 - Adds Bullet Physics
30. Aug. 2011Release of Cheetah3D 5.8
24. May. 2011Release of Cheetah3D 5.7
16. Nov. 2010Release of Cheetah3D 5.6
16. Jun. 2010Release of Cheetah3D 5.5 - Adds particle system
23. Feb. 2010Release of Cheetah3D 5.3 - 64-bit version
20. Jan. 2010Release of Cheetah3D 5.2
1. Dec. 2009Release of Cheetah3D 5.1
8. Oct. 2009Release of Cheetah3D 5.0
2. Sep. 2009Release of Cheetah3D 4.7 (Snow Leopard compatible!!!)
9. May. 2009Release of Cheetah3D 4.6.4
30. Dec. 2008Release of Cheetah3D 4.6.3
01. Dec. 20085th-Anniversary special offer
04. Nov. 20084th Cheetah3D-Contest
16. Sep. 2008Release of Cheetah3D 4.6.2
15. Jul. 2008Release of Cheetah3D 4.6.1
14. May. 2008Release of Cheetah3D 4.6 and "Cheetah3D for Beginners" video tutorials
13. Mar. 2008Release of Cheetah3D 4.5.1
12. Mar. 2008Release of Cheetah3D 4.5
24. Jan. 2008Buy Cheetah3D 4.x and get free update to Cheetah3D 5.0
9. Jan. 2008Release of Cheetah3D 4.4
26. Nov. 2007Release of Cheetah3D 4.3.1
26. Oct. 2007Release of Cheetah3D 4.3
19. Jun. 2007Release of Cheetah3D 4.2
18. Apr. 2007Release of Cheetah3D 4.1
23. Mar. 2007Release of Cheetah3D 4.0
03. Jan. 2007Release of Cheetah3D 3.6
05. Dec. 2006Buy Cheetah3D 3.x and get free update to Cheetah3D 4.0
06. Nov. 2006Cheetah3D wins "Commended" award at MacUser Awards 2006
26. Oct. 2006Release of Cheetah3D 3.5
26. Jul. 2006Release of Cheetah3D 3.4
14. Jun. 2006Release of Cheetah3D 3.3
09. May. 2006Release of Cheetah3D 3.2
01. Apr. 20062nd Cheetah3D-Contest
14. Mar. 2006Release of Cheetah3D 3.1
22. Feb. 2006Release of Cheetah3D 3.0
22. Feb. 2006New Cheetah3D logo and web site
22. Jan. 2006Release of Cheetah3D 2.6.1