News
---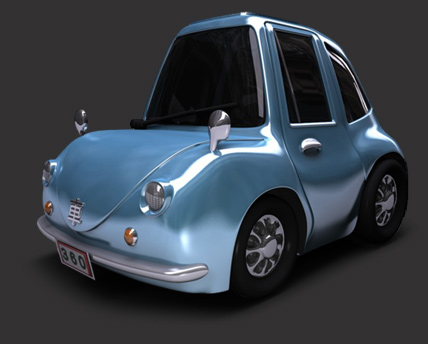 Release of Cheetah3D 3.0
22. Feb. 2006
This is the third full version update of Cheetah3D. One of the biggest enhancements is the new UV Editor (including the UV unwrapping tools) which allows the assignment of UV coordinates to even the most complex meshes. Version 3.0 even allows you to paint your textures inside Cheetah3D. You can choose between various pressure sensitive brushes and the basic drawing tools.
Cheetah3D 3.0 finally offers a PDF file loader, so it should no longer be a problem to import vector drawings and logos into Cheetah3D from almost any Mac OS X vector drawing application. Creating 3D logos has never been easier! The workflow has also been dramatically improved. For example, you can now assign materials to polygon selections with a simple drag and drop of the material onto the polygon selection.
As a result of a collaborative development project, Cheetah3D version 3.0 now allows you to render to the
Piranesi
EPix image format, in which every pixel has a depth and material value as well as a colour. Piranesi can then rapidly paint in additional textures and details such as people, furniture, or plants into your architectural renderings.
Last but not least, Cheetah3D 3.0 is now a Universal Binary. And it looks as if Cheetah3D has just been waiting for the new Intel processors to arrive! Apple's announcement that its Intel iMac would be twice as fast as the iMac G4 seems to have been an understatement; in fact, the iMac Core Duo easily beats a Dual G5 PowerMac.
A brand new copy of Cheetah3D 3.0 costs only 99 USD, while an update from version 1.x or 2.x costs just 49 USD.
Cheetah3D 3.0 requires at least Mac OS X 10.4 and 16 MByte VRAM.
The Intel version of Cheetah3D doesn't support the FBX file format yet. But it is available via Rosetta.
And many thanks to all the beta testers. Without you Cheetah3D 3.0 wouldn't be what it is. Thank you very much.
Major new features in Cheetah3D 3.0:
Modeling
Array modifier
Ring modifier
Transform modifier
Rewritten Extrude object
Group Select Tool
UV Editor
Powerful UV Editor with auto highlighting of tools
Select, move, scale and rotate UV coordinates
UV Unwrapping
Save UV coordinates to PDF
Auto Seams
Texture painting
Paint textures, and see the results live in the 3D view
Live painting of height and displacement maps
Various Brushes (solid and texture colour)
Rubber, circle, line and rect tools
Renderer
New material browser
Various icon sizes
Material search
Multi selection
Multi material drag and drop
Material drag and drop into the 3D view
Material drag and drop on polygon selections
File loader
PDF file loader
OpenEXR file loader
EPIX export
Many other small workflow enhancements
---
News list
18. Mar. 2019Release of Cheetah3D 7.3.3
2. Mar. 2019Release of Cheetah3D 7.3.2
25. Oct. 2018Release of Cheetah3D 7.3.1
11. Oct. 2018Release of Cheetah3D 7.3 - Adds Dark Mode, glTF, PBR materials, caustics…
22. Feb. 2018Release of Cheetah3D 7.2 - Adds HEVC, ProRes, IES Lights,…
7. Dec. 2017Release of Cheetah3D 7.1 - Adds polygon reduction, loft,…
4. Oct. 2017Release of Cheetah3D 7.0 - Biggest Upgrade ever
1. May. 2016Cheetah3D 7.0 - Early Adopters Beta Test
28. Sept. 2014Release of Cheetah3D 6.3.2
30. Jan. 2014Release of Cheetah3D 6.3.1
30. Dec. 2013Release of Cheetah3D 6.3
8. Apr. 2013Release of Cheetah3D 6.2.1
30. Jan. 2013Release of Cheetah3D 6.2 - Adds support for ABF unwrapping
18. Oct. 2012Release of Cheetah3D 6.1 - Adds support for Retina Display!!!
26. July. 2012Release of Cheetah3D 6.0.1
13. Apr. 2012Release of Cheetah3D 6.0 - Adds Bullet Physics
30. Aug. 2011Release of Cheetah3D 5.8
24. May. 2011Release of Cheetah3D 5.7
16. Nov. 2010Release of Cheetah3D 5.6
16. Jun. 2010Release of Cheetah3D 5.5 - Adds particle system
23. Feb. 2010Release of Cheetah3D 5.3 - 64-bit version
20. Jan. 2010Release of Cheetah3D 5.2
1. Dec. 2009Release of Cheetah3D 5.1
8. Oct. 2009Release of Cheetah3D 5.0
2. Sep. 2009Release of Cheetah3D 4.7 (Snow Leopard compatible!!!)
9. May. 2009Release of Cheetah3D 4.6.4
30. Dec. 2008Release of Cheetah3D 4.6.3
01. Dec. 20085th-Anniversary special offer
04. Nov. 20084th Cheetah3D-Contest
16. Sep. 2008Release of Cheetah3D 4.6.2
15. Jul. 2008Release of Cheetah3D 4.6.1
14. May. 2008Release of Cheetah3D 4.6 and "Cheetah3D for Beginners" video tutorials
13. Mar. 2008Release of Cheetah3D 4.5.1
12. Mar. 2008Release of Cheetah3D 4.5
24. Jan. 2008Buy Cheetah3D 4.x and get free update to Cheetah3D 5.0
9. Jan. 2008Release of Cheetah3D 4.4
26. Nov. 2007Release of Cheetah3D 4.3.1
26. Oct. 2007Release of Cheetah3D 4.3
19. Jun. 2007Release of Cheetah3D 4.2
18. Apr. 2007Release of Cheetah3D 4.1
23. Mar. 2007Release of Cheetah3D 4.0
03. Jan. 2007Release of Cheetah3D 3.6
05. Dec. 2006Buy Cheetah3D 3.x and get free update to Cheetah3D 4.0
06. Nov. 2006Cheetah3D wins "Commended" award at MacUser Awards 2006
26. Oct. 2006Release of Cheetah3D 3.5
26. Jul. 2006Release of Cheetah3D 3.4
14. Jun. 2006Release of Cheetah3D 3.3
09. May. 2006Release of Cheetah3D 3.2
01. Apr. 20062nd Cheetah3D-Contest
14. Mar. 2006Release of Cheetah3D 3.1
22. Feb. 2006Release of Cheetah3D 3.0
22. Feb. 2006New Cheetah3D logo and web site
22. Jan. 2006Release of Cheetah3D 2.6.1