News
---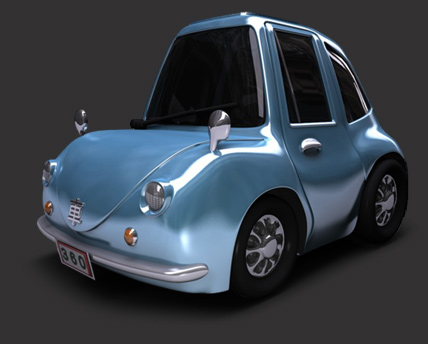 Release of Cheetah3D 5.3 - 64-bit version
23. Feb. 2010
Cheetah3D 5.3 was released today. The biggest change in Cheetah3D 5.3 is undoubtedly the 64-bit version for Intel 64-bit CPUs. Now Cheetah3D can use all the memory installed in your Mac, and will allow you to create much more complex and more impressive scenes. To deal with these complex scenes, the Cheetah3D raytracing core has been accelerated considerably, and Altivec/SSE optimized. The handling of complex geometry has also been considerably improved: huge meshes with millions of polygons now render up to 10 times faster.
On the user interface side, the already convenient and easy-to-use Render Manager has been rewritten completely and is now even better. For example, for easier finding of old render jobs, a thumbnail preview is now available. The pose manager functionality has moved to a tag to allow saving poses locally and making it more conveninent and faster to work with character poses.
To offer an even better learning experience, we've once again teamed up with Andrew Heyworth, a professional designer and teacher, to produce Cheetah3D 5.0 video training material. The resulting
"Cheetah3D 5.0 for Beginners"
video tutorials cover all the main aspects of using Cheetah3D from the user interface, the new material system, modeling, rendering and animation. The length of the video tutorials has grown to five-and-a-half hours, and they are available via download (1.4 GByte, 1024x768 resolution)
for just 29$
.
New features in Cheetah3D 5.3:
added 64-bit support for Intel Macs
Altivec/SSE accelerated raytracing core
Altivec/SSE accelerated wire frame material node
redesigned UI of render manager (with thumbnail preview, job manaeger in main window, etc.)
moved pose manager functionality to new pose tag
tool settings can be saved to preferences (small factory icon in tool editor)
Second UV set is now displayed in the 3D view properly
chanchged extrude "segment" property to 1
some new icons (by Frank)
HDRI tag now uses panormaic mapping as default
more effienct preferences loading/saving
new Javascript API functions

Base::addParameterString(String paraname, String initvalue, Boolean build)
Base::addParameterLink(String paraname, Boolean build)
Base::parameterCount()
Base::parameterAtIndex(Number index)

fixed bug in Object::setCreatorObj() Javascript function
fixed bug in Global::print() Javascript function
fixed bug in File::seek() function
fixed bug in File::readFloat() function
fixed small bug in toolbar when using small icons
fixed bug when opening .jas files when a script was missing
fixed bug in render manager (beep after finished render job)
fixed crashing bug when using under sampling
fixed bug in gradient node
fixed bug in point slide tool
fixed bug when assigning materials to hidden polygons
fixed bug in gradient node
fixed bug in edge break normal calculation
fixed bug when loading scripts on Japanese systems
fixed bug with corrupted object IDs when importing .jas files
fixed bug with corrupted object IDs when copy & pasting object
fixed OpenEXR import bug
fixed exploding scale bug
fixed material assignment bug
fixed blurred reflections bug
fixed bug when rendering long animations
fixed bug with textures with alpha channel
---
News list
11. Oct. 2018Release of Cheetah3D 7.3 - Adds Dark Mode, glTF, PBR materials, caustics…
22. Feb. 2018Release of Cheetah3D 7.2 - Adds HEVC, ProRes, IES Lights,…
7. Dec. 2017Release of Cheetah3D 7.1 - Adds polygon reduction, loft,…
4. Oct. 2017Release of Cheetah3D 7.0 - Biggest Upgrade ever
1. May. 2016Cheetah3D 7.0 - Early Adopters Beta Test
28. Sept. 2014Release of Cheetah3D 6.3.2
30. Jan. 2014Release of Cheetah3D 6.3.1
30. Dec. 2013Release of Cheetah3D 6.3
8. Apr. 2013Release of Cheetah3D 6.2.1
30. Jan. 2013Release of Cheetah3D 6.2 - Adds support for ABF unwrapping
18. Oct. 2012Release of Cheetah3D 6.1 - Adds support for Retina Display!!!
26. July. 2012Release of Cheetah3D 6.0.1
13. Apr. 2012Release of Cheetah3D 6.0 - Adds Bullet Physics
30. Aug. 2011Release of Cheetah3D 5.8
24. May. 2011Release of Cheetah3D 5.7
16. Nov. 2010Release of Cheetah3D 5.6
16. Jun. 2010Release of Cheetah3D 5.5 - Adds particle system
23. Feb. 2010Release of Cheetah3D 5.3 - 64-bit version
20. Jan. 2010Release of Cheetah3D 5.2
1. Dec. 2009Release of Cheetah3D 5.1
8. Oct. 2009Release of Cheetah3D 5.0
2. Sep. 2009Release of Cheetah3D 4.7 (Snow Leopard compatible!!!)
9. May. 2009Release of Cheetah3D 4.6.4
30. Dec. 2008Release of Cheetah3D 4.6.3
01. Dec. 20085th-Anniversary special offer
04. Nov. 20084th Cheetah3D-Contest
16. Sep. 2008Release of Cheetah3D 4.6.2
15. Jul. 2008Release of Cheetah3D 4.6.1
14. May. 2008Release of Cheetah3D 4.6 and "Cheetah3D for Beginners" video tutorials
13. Mar. 2008Release of Cheetah3D 4.5.1
12. Mar. 2008Release of Cheetah3D 4.5
24. Jan. 2008Buy Cheetah3D 4.x and get free update to Cheetah3D 5.0
9. Jan. 2008Release of Cheetah3D 4.4
26. Nov. 2007Release of Cheetah3D 4.3.1
26. Oct. 2007Release of Cheetah3D 4.3
19. Jun. 2007Release of Cheetah3D 4.2
18. Apr. 2007Release of Cheetah3D 4.1
23. Mar. 2007Release of Cheetah3D 4.0
03. Jan. 2007Release of Cheetah3D 3.6
05. Dec. 2006Buy Cheetah3D 3.x and get free update to Cheetah3D 4.0
06. Nov. 2006Cheetah3D wins "Commended" award at MacUser Awards 2006
26. Oct. 2006Release of Cheetah3D 3.5
26. Jul. 2006Release of Cheetah3D 3.4
14. Jun. 2006Release of Cheetah3D 3.3
09. May. 2006Release of Cheetah3D 3.2
01. Apr. 20062nd Cheetah3D-Contest
14. Mar. 2006Release of Cheetah3D 3.1
22. Feb. 2006Release of Cheetah3D 3.0
22. Feb. 2006New Cheetah3D logo and web site
22. Jan. 2006Release of Cheetah3D 2.6.1