Is there any way to import a 3D Tracked Camera created in After Effects into Cheetah3D?
This feature has been requested for over a decade now
, and I understand that Martin already has a lot of stuff going on with C3D, but
match moving
is such an essential part of any compositing workflow involving 3D these days. Just look at England for example: I have a colleague that recently came home to Sweden from a couple of years of working in England, and he explained to me that a lot of studios nowadays in England chooses to record whole movies in front of green screens and composite talents into CGI-worlds due to the expensive (and risky) costs of building real, physical sets and filming in public spaces. If C3D doesn't allow me to import a tracked 3D camera, it means that I'm limited to static shots, which is incredibly disappointing and really bad. The lack of this feature alone renders Cheetah3D useless for me; it's not worth spending time using this program if it lacks this feature. Personally, without knowing much about programming, I feel like this wouldn't be THAT hard to pull off. Sure - there is no way to export a 3D camera out of AE (except for exporting it as a C4D-file, which understandable is not readable by C3D); however, after tracking the clip and you've created a 3D camera from it you can manually copy the Position and Orientation (rotation) data from the new 3D camera in the composition and paste it into, for example, a text document. This results in something that looks like this: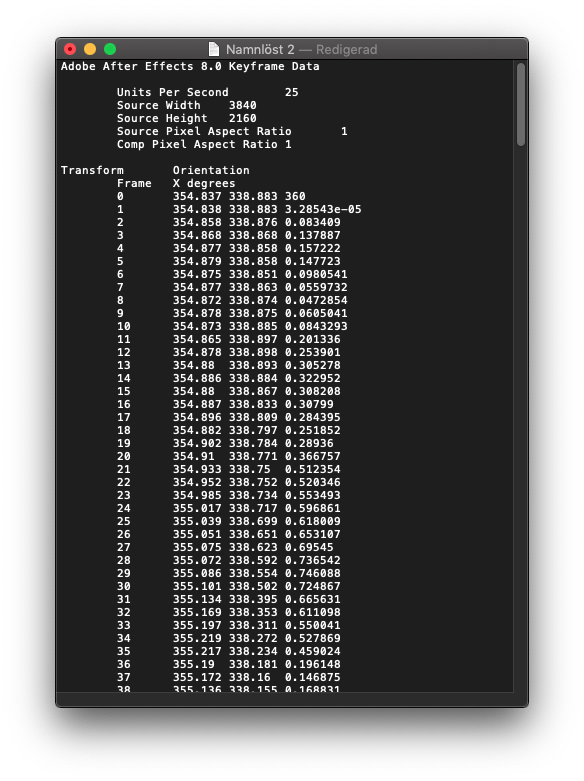 Full text document available for download here:
https://www.dropbox.com/s/2ghjclpp5g41hs4/After Effects 3D Tracker Camera Data Pasted.txt?dl=0
There's no doubt in my mind that there should be a way for Martin (or someone) to write a script or do SOMETHING that allows people to import these text files as keyframe data for a camera's position and rotation. Yes - After Effects doesn't use the same coordinate system but you should be able to fix this offset by placing the camera under a parent null/group and moving it, I'm only requesting some kind of solution that allows me to match move since it's such an essential part of compositing workflows nowadays.