I have made a box of 6 segments/polys (3x, 3y, 1,z).
My plan is to push the front center polygon in a bit. (Fig 1) ...which I've figured out how to do
What I need to do next is to move the edges surrounding it to precise positions. (it's 80 units along Y...so I want the top edge of the bottom row of polys at 4, and the bottom edge of the top row at 78)...similar to this: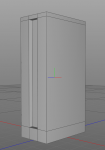 But that was done by eyeballing it...I've yet to figure out how to do it precisely, hitting the exact positions I want.
I'm sure there's a tool for this, or a screen view, but so far, haven't found it.
Any advice on this would be appreciated.