Training
---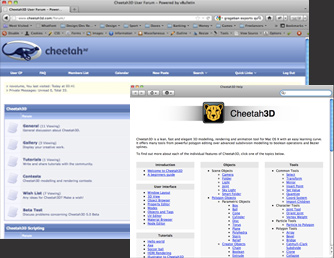 Cheetah3D training materials
Cheetah3D is designed with users in mind, from the interface to the functionality and training. Built in the software is searchable help documentation of all the main features and tools. Additional online video tutorials can also be accessed through the help included in Cheetah3D. A vibrant online community of Cheetah3D users has developed through the online forums, providing help and guidance.
---
Learn 3D with Cheetah3D 6
by Tonio Loewald
Understanding 3D graphics is fast becoming the key skill for the 21st century. Whether you're casually interested in learning to create 3D graphics on a Mac OS X, or a graphics professional looking to expand your skill set, this book will help you learn 3D concepts and how to use the easiest-to-use complete 3D package on the Macintosh.
You can find the ebook at:
---