*
Note that Catalina will not run 32bit applications.
* Check your apps (About + system report + applications + sort by the 64 bit column + check all apps with a "no" in the column).
* Just prior to the MacOS X update you also get a warning which shows any recent applications which are not compatible (at which stage you can still abort the update).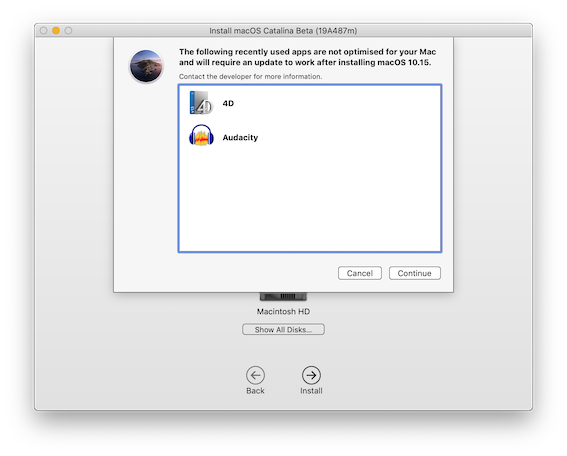 * In my case (apart from ancient redundant stuff) the apps
Audacity
and
Inkscape
were not compatible. An Audacity 64 download was no problem, an Inkscape 64 more so. The compatible version is Inkspace 1 alpha, but Catalina won´t open it unless you fiddle with the security system prefs. I did not check the Inkspace app itself.
*
Make Human
does not seem to work at all; after security fiddles it crashes.
*
iTunes
has been deprecated / replaced by alternative apps. I have not, as yet, checked the options to record audio narration for videos.
* I have opened / tested a few
C3D.jas
projects and there were no problems
* Unrelated to 3D modelling: the application 4D (a database engine) crashes.
* Note to other sado-masochistic Mac aficionados diagnosed with suicidal experimental psychopathology: Please add any of your own experiences with macOS Catalina.
*

Needless to state: Make a full backup on time machine in case you decide to revert the Catalina upgrade to whatever MacOSX you are using currently. You will need to erase all data prior to the TM restore