I don't really think this needs the NSFW tag, but I figured it would be better to err on the side of caution.
These are just some things I have done in Cheetah over the last few years.
Warhammer 40K Autarch.
This was the first character model I did in Cheetah. I never did finish this and I doubt I will, but you never know.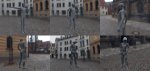 A Vietnam era helicopter pilot eventually to be 3D printed for an RC helicopter.
I am sure I will finish this at some point. I want to test how viable this is to do for RC/scale modelers. There are companies out there that do this sort of thing, but most are canned poser type figures that are not very accurate.
HiRes female model
I have a lot of hours into this model. This was started probably 15 years ago. I got my start with 3D modeling using a PC program called Anim8or. Very crude, but it worked. A few years back I pulled the model in Cheetah and plan to clean up the edge loops, give it proper UV's and test more rigging/rendering characters. The end goal is to use this as a sketch reference model.
Everything from pencil sketches, painting, 3D modeling, I love doing this stuff. I just do not have much free time anymore. Hopefully I can get back into the art grove again and find more time.